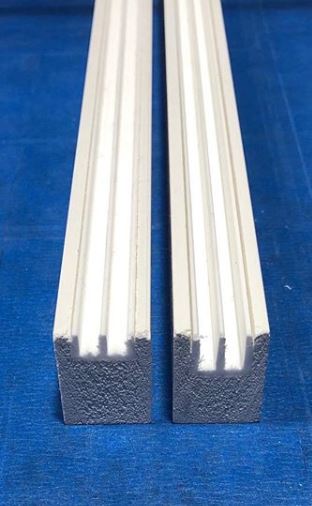 Shop
**NEW** Python Portal Frame Sections
PYTHON PORTAL FRAME SECTIONS
Python Portal Frame pieces with sliding glass track pre-installed. These are the foundation for your DIY tub conversion project that will allow you to convert many types of inexpensive storage tubs/bins into fantastic enclosures for your animals. If you are a little handy and want a project that can save you some serious caging cash then this is the right product for you.
Simply determine what lengths you need for your tub to make a complete frame. Below is an example showing how to order all the pieces needed for your project.
Remember, you will need the Python Portal Corner Brackets and possibly the Middle Joiners to finish your DIY project. So don't forget to add those to your cart as well!
Key Features:
Made from Solid White PVC that has sliding glass track pre-installed. They are designed to accommodate 1/8" glass that you source from your local glass supplier. We do it this way to avoid breakage during shipping, and also the glass is usually much cheaper when you just buy it locally.

These can be painted by you to match the color of the corner, and joiner brackets, and also to better match your box if you use something with color. Simply use a plastic safe spray paint such as Krylon Fusion and allow to dry/cure fully before using with your animals.

Can be ordered with white or black sliding glass track.

You can easily cut the pieces to the exact lengths you need with a miter saw or hand saw with a miter box. The material is very easy to cut.

If you are just slightly handy you can create stackable enclosures that have the following features:

- Plastic enclosures hold heat very well compared to all glass.
- Unlike cages assembled from PVC these have built in rounded corners (easy cleaning) and are waterproof.
- Plastic boxes are extremely inexpensive. if you break or damage one you can easily and cheaply replace them.
- Most all storage boxes are designed to stack on one another. No need for a rack system!
- By mounting the frame on a side you now have front and top access to the enclosures.
- Plastic boxes are very light weight. The larger boxes in the picture are the Sterilite 1479 box and they are 200qt (39 3/4" Long x 21 1/2" Wide x 17 7/8" Tall). Fully assembled with glass panes the total weight is 15 pounds.
PLEASE READ THE FOLLOWING BEFORE ORDERING:
What you get when you order:
Comes in pairs. For example: If you order one section of 23" you will get two rails at 23". One is the deep track and the other will be the shallow corresponding track. They are sold this way to ensure you have the necessary pieces to allow the sliding glass to work properly.
Example Order:
I have a tub with an opening that is 18" tall and 28" long where I want to place the frame with sliding doors. Here is what I need to get my project done:
I need one 23" section. This will provide both sides for the part of the opening that is 18" tall. I will cut these to the exact length needed after I receive them. Remember they come in pairs!

For the top and bottom of the opening in my tub that is 28" long I need two sections at 15". I will cut these to the length needed and join in the middle using our specialty joiners.

For this build I need 1 group of corner brackets. These are sold in packs of 4.

For this build I need 2 middle joiners.

The total cost for the pieces for this build will be the following (not including shipping):

1 x 23" Python Portal Rail= $12.85

2 x 15" Python Portal Rail= $17.90

4 pack of Corner Brackets= $7.00

2 Middle Joiners= $3.00

Total cost of the frame is just $40.75